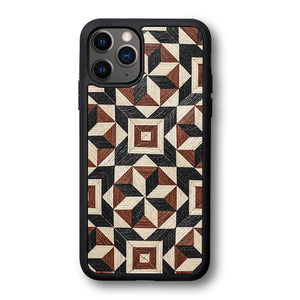 Our iPhone cases
Of Andalusi Arabic origin coming from Granada, the city where the purity and style of this traditional process with more than 700 years of history still remains.
Every case is unique and totally handmade.
Tarxia has cared for the smallest details both in the design and manufacture , using hardwoods as: Lignum vitae, Ebony, Walnut, Wenge, Sycamore and Sapele. The natural materials used in its finishing make the case 100% ecologic and hypoallergenic.
our process
Design
The geometric designs start with simple line drawings, choosing the woods and taking into account every detail of the composition for the elaboration of a complete geometric pattern. Will make your iPhone case unique.
Materials
The geometric mosaic are created from noble Woods as Palo Santo, Ebony, Walnut, Venge, Sycamore… , and whenever possible from fallen trees. Protection, warmth and elegance for your iPhone.
Production
Tarxia products are elaborated entirely handmade, by craftsman from Granada (Spain). They use a technique of Arabic origin, known as Taracea with more than 700 years of history. The most elaborate and exquisite work to dress your iPhone.